Hugh D. Cox, Attorney in Greenville, NC, proudly representing the disabled for rightful veterans benefits, Social Security benefits and Workers Compensation.

2411 B Charles Boulevard
Greenville, North Carolina 27858
or
Post Office Box 154
Greenville, North Carolina 27835-0154

Phone: (252) 757-3977
Fax: (252) 757-3420
email:

hughcox@hughcox.com

North Carolina Bar Number 6567
Department of Veterans Affairs Accreditation number 8925
The information contained in this website is general legal information and not legal advice on any legal subject. It is no substitute for the services of a
competent professional attorney experienced in these matters. This information is subject to change at any time due to new legislation or new court cases.
About Your Attorney



I personally represent my clients: I interview, prepare clients for testifying, write briefs and go to trial and hearings with clients. You need not worry that someone else will "handle" your case. I am your lawyer and will be with you at all times to represent you.

A word of warning: As a seventy-one year old "country lawyer" with a rural background, I speak honestly and plainly to clients. I listen, then sometimes interrogate my clients. I expect much from clients in delivering information and effort - just as clients expect from me. Those who expect everything done for them should not retain me. My parents' working class gift to me was an expectation of cooperative effort between equal persons attempting to achieve the same goal. An attorney is a professional advisor who works for and remains loyal to a client. I accept cases for the long term and not for a quick settlement. Once hired, my effort is achieve justice and resolution for my client.

I proudly represent injured and disabled persons for:

Professional Credentials
Attorney since October 1975
Passed the Bar exams and still licensed in:
North Carolina since 1975
District of Columbia since 1975


I have a unique law practice where satisfied clients refer new clients.


My law practice is small so clients can talk to me personally when necessary.

My education includes:
-Bachelor of Arts degree, North Carolina State University, 1966.
-Juris Doctor, North Carolina Central University School of Law, 1974.
-Defense Language Institute, Vietnamese, 1966

My professional organizations include:
-North Carolina Bar
-District of Columbia Bar
-North Carolina Academy of Trial Lawyers
(Hyperlink http://www.ncatl.org )
-The American Trial Lawyers Association
-National Association of Social Security Claimants Representatives
(Hyperlink http://www.nosscr.org )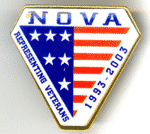 -National Organization of Veteran's Advocates (NOVA) (Hyperlink: www.vetadvocates.com )
(Founding member and Board of Directors member from 1992 until 1998)
-Workplace Injury Litigation Group, Inc. (Hyperlink http://www.wilg.org )
-Public Citizen (Ralph Nader, Founder)

Past positions include:
-Assistant District Attorney for State of NC - Third Judicial District (1978 - 1980)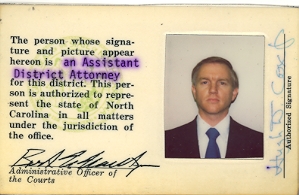 -Police Attorney for City of Greenville, North Carolina (1976 - 1978)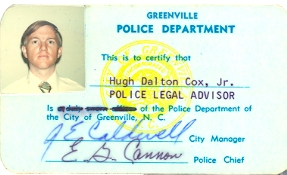 My significant State and Federal appellate decisions include:
Andrews v. Peters, 55 N.C. App. 124, (1981)
State v. Schwanz, 74 .C. App. 276, (1985)
Harrington v. Pate, 356 SE2d 365, (1987)
Whitehurst v. Corey, 364 SE2d728, (1988)
Hunt v. Scotsman, 383 SE2d 390, (1989)
Forrest v. Pitt, 394 SE2d 659, (1990)
Cratt v. Perdue, 401 SE2d 771, (1991)
Nagler v. Derwinski, 1 Vet.App. 297, (1991) (amicus curiae brief)
Forrest v. Pitt, 400 SE2d 448, (1991)
Snow v. Derwinski, 1 Vet.App.417, (1991)
Tripp v. Derwinski, 3 Vet.App.173, (1992)
Tilton v. Brown, 5 Vet.App. 23, (1993)
Craft v. Clark Construction 474 SE2d 808, (1996)
Lewis v. Craven Regional Medical Center, 122 N.C. App. 143, (1996)
Matter of Fee Agreement of Cox, 10 Vet.App. 361 , (1997)
Piland v. Harris Supermarkets, 347 N.C. 412, (1997)
Lewis v. Craven, 542 SE2d 212 (2000) *
Cox v. Gober, 14 Vet. App. 148; (2000) **
Bostick v. Kinston Neuse Corp., 549 SE2d 558 (2001)*
Modlin v. Principi ___ Vet.App. ___, (April 22, 2003)
*with George Lennon
(See: www.ncdisability.net , www.ncdisability.com , www.compatty.com , www.compatty.net , www.nctorts.com , www.ncworkcomp.com )
** represented by Ken Carpenter of Carpenter Chartered, Topeka, KS

My cases have been featured in the following legal publications:
North Carolina Lawyer's Weekly
Larson's Workman's Compensation
The Veterans' Law Reporter
The Veterans' Advocate
N. C. Workers' Compensation



The May 1990 Veterans' Law Reporter printed that I was one of the first two attorneys (along with William G. Smith of Los Angeles) in the nation paid pursuant to the Veterans Judicial Review Act for successful representation of a veteran for benefits before the Veterans Administration (Now the Department of Veterans Affairs).

Background:
Born in Kinston, North Carolina.
Grew up in a military family
graduated from Needham Broughton High School in Raleigh in 1961.

Military Service: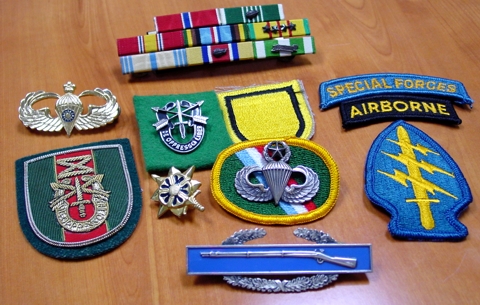 U.S. Army, 1966 -1971
Active Duty Assignments:
-Defense Language Institute (Vietnamese)
-1st Special Forces Group in 441st Military Intelligence Detachment.
See: http://www.441st.com
-5th Special Forces Group at MACV-SOG (TDY from 1st Special Forces)
-82nd Airborne Division
Military Awards and Decorations:
-Bronze Star Medal
-Army Commendation Medal with OLC
-Combat Infantryman's Badge
-Special Forces Tab qualified
-Master Parachutist Badge
Security Clearance: Top Secret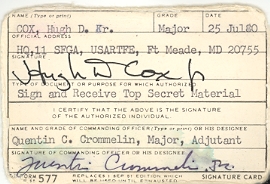 Civic Interests:
-Appointed to City of Greenville Environmental Commission, 2008 to present.

My legal staff is very capable and very protective of my time as I have asked her to be. It is very important that clients keep my staff informed of events in the case and any change of address or telephone.

Legal Research Capabilities:
-LexisNexis - including all States and All Federal research plus Social Security, Veterans law, and Workers Compensation
-Lexis-Nexis (We proudly use the Veterans Benefits Manual series including CD-ROM's.)

We take pride in our computer knowledge and operations utilizing word processing, financial accounting, legal research and time/calendar control to assist clients. My entire library is constantly updated. My computer articles for lawyers have been published in TrialBriefs and The North Carolina Lawyer's Weekly. I was the computer speaker ("About the Internet") at the North Carolina Academy of Trial Lawyers 1997 Annual Meeting and at a Social Security seminar in March 1998


My article entitled, Guide to the MMPI-2 was published in the September 1999 National Workplace Injury Litigator (Workplace Injury Litigation Group).

I was the technology speaker at the March 17, 2000 Greensboro seminar on "A Nuts N Bolts Social Security Primer" presented by the NC Bar Association.


My office will mail you all items sent or received in your case so your home file will have the same items as my office file - and this effort keeps you constantly informed.



My philosophy is to deliver professional legal services at a fair and reasonable price. Great emphasis is placed on realistic advice. My professional relationship with judges and other public officials is one of trust and integrity. I strive to be an effective and honest lawyer fighting for your legal rights.


Office Directions 2411 B Charles Boulevard, Greenville, North Carolina
My office location is on Charles Boulevard at the corner of Charles and Red Banks Road. I am across the street from the Greenville fire station.
See this link: Map to my office