Hugh D. Cox, Attorney in Greenville, NC, proudly representing the disabled for rightful veterans benefits, Social Security benefits and Workers Compensation.

2411 B Charles Boulevard
Greenville, North Carolina 27858
or
Post Office Box 154
Greenville, North Carolina 27835-0154

Phone: (252) 757-3977
Fax: (252) 757-3420
email:

hughcox@hughcox.com

North Carolina Bar Number 6567
Department of Veterans Affairs Accreditation number 8925
The information contained in this website is general legal information and not legal advice on any legal subject. It is no substitute for the services of a
competent professional attorney experienced in these matters. This information is subject to change at any time due to new legislation or new court cases.

ONE OF THE LATEST TACTICS: REDUCING A VETERAN'S SERVICE-CONNECTED DISABILITY without reasons.
When the Winston-Salem Regional Office (WSRO) reports on its backlog of VA claims, the statistics only include "initial" veteran claims and not appealed claims. Because of this tactic, the WSRO probably has much higher number of appealed cases than most Regional Offices. Recently, one of my veterans rceived a decision that reduced one of his ratings by ten percent, but granted another increase of ten percent. This left the veteran with the same rating, but the Regional Office can lie to Congress and to the public with statistics that falsely show a reduction in the WSRO backlog. See the VA reduction below:

The difficulty with this reduction is that Diagnostic Code 5257 has a minimum of ten percent. The Code of Federal Regulations at 38 C.F.R. Sec. 4.71a does not contemplate a rating of zero or non-compensable rating where the veteran had no change in his knee condition rated at ten percent for more than four years, yet was reduced. See Diagnostic Code 5257 below.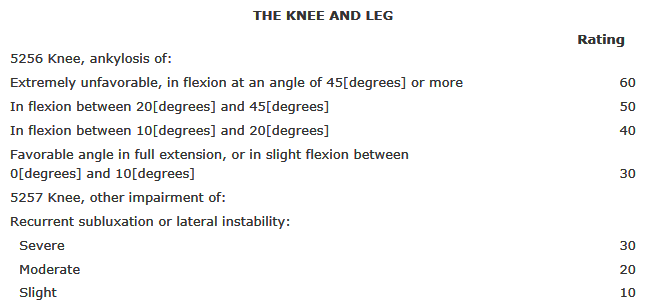 The Veterans Court can affirm a knee rating under Diagnostic Code 5157 at a non-compensable rating under certain circumstances. In this veteran's case, the veteran was rated at 10 percent for more than four years and had no change in his knee examinations. This reduction is a typical WSRO reduction. See CAVC case below:
DONALD R. MCDOLE, APPELLANT, v. TOGO D. WEST, JR., SECRETARY OF VETERANS AFFAIRS, APPELLEE.
NO. 97-2044
UNITED STATES COURT OF APPEALS FOR VETERANS CLAIMS
2000 U.S. App. Vet. Claims LEXIS 10
January 4, 2000, Decided
Under DC
5257
a
rating
of 10%, 20%, or 30% is provided, depending on the severity and "[recurrence] [of] subluxation or lateral instability" of the knee."
38 C.F.R. § 4.71(a)
, DC
5257.
Subluxation is defined as a, "partial dislocation (as of one of the bones in a joint)." ROGER PEASE, PH.D., WEBSTER'S MEDICAL DESK DICTIONARY 685 (1986). The pertinent section
[*12]
of the Code of Federal Regulations dictates that:
In every instance where the schedule does not provide a zero

percent

evaluation for a

diagnostic

code, a zero

percent

evaluation shall be assigned when the requirements for a

compensable

evaluation are not met.
38 C.F.R. § 4.31 (1998)
. Thus, the first issue is not whether the appellant suffers from pain, but whether his current knee condition satisfies "the requirements for a
compensable rating
[under DC
5257
]." Id. Upon examination of the record, the Board stated in its September 1997 opinion, "clinical documentation shows that the [appellant's] right knee has repeatedly been found to be essentially asymptomatic on physical and radiological examination." R. at 21. Similarly, this Court concludes, after an examination of the record, that there is no medical evidence satisfying "the requirements for a
compensable
evaluation [under DC
5257
]."
38 C.F.R. § 4.31 (1998)
. The most recent orthopaedic examination of the appellant's right knee reflects "flexion 145-0 . . . no swelling, no instability . . . no pain on palpation and no pain on motion . . . no laxity present . . . no motor or sensory loss." R. at 675. This evaluation is consistent with earlier orthopaedic examinations. See, e.g., R. at 410, 496. The Board did not err in concluding that the appellant was not entitled to a
compensable rating
under DC
5257.